COVID-19 – TO OUR VALUED CLIENTS
Stop the Record Retrieval Runaround.
Requesting and receiving records from a record retrieval vendor, or healthcare provider, should be easy. Unfortunately, that isn't the case. Numerous phone calls, emails, faxes, and a great deal of frustration later, you might find yourself asking, "shouldn't this process be easier?"
Expedited Retrieval Coast to Coast,
Without the Hassle.
ABI manages the tedious follow up with providers and leverages proprietary technology to obtain records faster than traditional retrieval processes. ABI focuses strictly on record retrieval services and technology, so you can feel confident that we have your needs on our mind 24/7.
Sophisticated Processes Simplify Your Day
Our behind-the-scenes processes make working with ABI a breeze.
From placing your first order, to electronically receiving the records, ABI's entire process is built on proprietary technology that provides our clients and our internal staff visibility into every step of the retrieval process.
Order Online

Service

Records Retrieval

Record Processing

Delivery
Status Updates In A Snap.
Proprietary dashboards provide visibility into the process when you need it.
When ordering records from ABI, customize your experience to your preferences. Log in anytime to review the live order status details or elect to have updates sent automatically via email.

Requesting and Reviewing Records
is Fast and Easy.
From ordering records online using ABI's order-tracking dashboard to reviewing records using our proprietary web-based tool, eSummary by ABI™
ABI makes the process simple, streamlined, and cost-effective for our clients.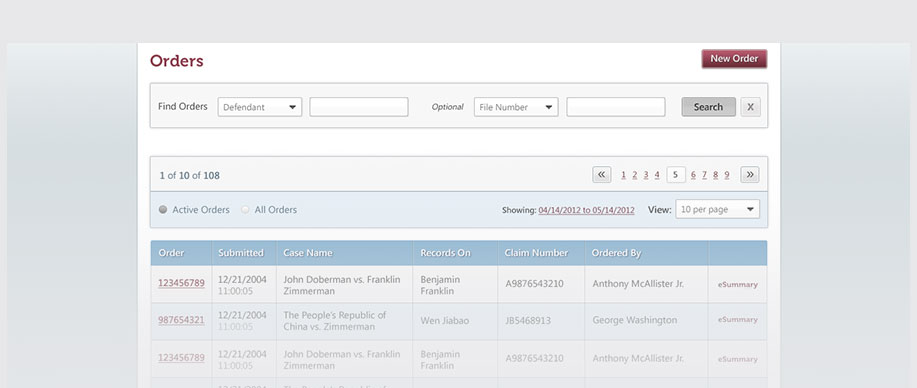 Copyright © 2023 ABI Document Support Services, Inc. | All Rights Reserved